Every 4th of July we grill our hot dogs and hamburgers. Then we slather them with ketchup, mustard, relish, and the occasional brave soul grabs the mayo as well. We indulge and let the kids in on the fun too! Of course when you invite kids to the show you inevitably end up with a wrinkle in the plan.
For instance, my kids don't like to eat their hot dogs with a bun, but heaven forbid we don't purchase the buns for the hotdogs as that would be the one time that my kids would request the. Not having the buns would create a glorious, firework sized, fourth of July sized meltdown! Thus, we buy hot dogs, we buy buns, and then we just assume we will have leftovers.
The problem is that I just forget to repurpose the left over buns for other things so I end up finding them in the pantry a month later with our new little friend mold added to the party. Don't judge -my pantry and I are constantly fighting. (currently I am losing)
If this were mine this would be an improvement =)
This year I am determined to win the battle of the buns. I am going to use what I buy and not waste a thing! In order to do that I have amassed a few simple strategies for success.... check these out!
Why not transform them
into Sourdough Croutons
... depending on the type of bun you use of course... but croutons in general are a great solution!!
Need a filler for your
Meatball
? Normally use breadcrumbs? Try using leftover buns!
Need something that goes with the spaghetti?? How about some Garlic Bread. This is a popular solution for us. Just butter the bun, sprinkle with garlic powder and we top it with parmesan cheese. You can either broil it or stick it in the toaster and it is a quick and easy way to find your leftover solution!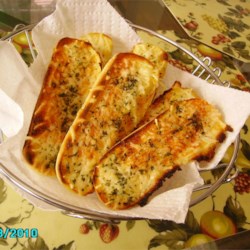 Want something sweet rather than savory? Try a
bread pudding with your buns
! I mean how delicious does this look!?!?
Lastly... lets bring a bit of breakfast to our party.... How about a
Sausage, egg, cheese and bun casserole?!
Hope you enjoy a bit of savings and tastiness!
Until Next Time,